Welcome to Port St. Johns
Local Municipality
A warm welcome from the local municipality of Port St. Johns, known as the centre of tourism on the Wild Coast, with deep sea fishing and shore angling near three beautiful beaches.

Our community values visitors and welcomes everyone.
The Major Voice of Port St. Johns Local Municipality Town Governance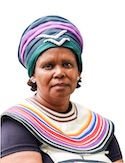 M
ayor Honorable Nomvuzo Mlombile-Cingo of Port St. Johns local municipality welcomes all residents and visitors to our information portal.
Port St. Johns Local Municipality is an administrative area in the O.R. Tambo District of Eastern Cape in South Africa.

My administration and I are committed to serve you and everyone at the highest level possible. First and foremost is our focus on public safety and community wellbeing. We also strive for strong neighbourhoods, a healthy and sustainable environment, and abundant adventure and recreation for all families and visitors through our well known beautiful resorts and beaches.
The municipality is largely rural/traditional in character and the main economic activities are tourism and subsistence farming. Thus we have pitch on this portal, beyond the legislative disclosures, is to represent our heritage, our people.
Learn More
N. MLOMBILE CINGO
Port St. Johns town mayor

+
My highest priority is keeping Londoners safe from harm.
Important Numbers & Contact
Information
Below are important numbers, email addresses that you may need. Operating times are indicated below except for emergencies.
Call us on
+27 47 564 1207/8
Fax
+27 47 564 1206
Emergency
+27 47 954 3018
Electricity (Eskom)
+27 47 952 1008
Email us on
info@psjmunicipality
.gov.za
Operating ours
8am to 4:30pm
Meet Some of our Council Members
Below are details of our Mayor, Speaker, Chief Whip, and heads of various committees and departments. You can find more details on the about us page for councilors, traditional leaders, ward committees, and community development workers.
"Loves or pursues desires to obtain pain of itself, because pain because occasionally circumstances occur in which toil and pain can procure him some great pleasure."
People live in
our town
Our residents are warm and friendly, full of adventure and lively spirit.
Square kilometres
region covers
Port St. Johns Local Municipality is an administrative area in the OR Tambo District of Eastern Cape in South Africa.


Villages in
the municipality
We have a diverse and rich heritage of culture and traditions spanning generations.
Remember these Covid 19 Prevention Tips